The Essence of the Science of Nutrition
Humans need essential nutrients.  Magnesium is only one of more than forty essential nutrients for humans.  We all need an adequate and balanced amount of these nutrients daily for optimal health and to optimize the healing capabilities of the body.  These forty-plus essential nutrients are listed below by the categories of the essential nutrients:
vitamins,
minerals,
essential fatty acids, and
essential amino acids (found in protein foods).
The Essential Minerals for Humans
BULK MINERALS
Magnesium
Calcium
Phosphorus
Potassium
Sodium
Iodine
TRACE MINERALS
Arsenic
Boron
Chloride
Chromium
Cobalt
Copper
Iron
Manganese
Molybdenum
Nickel
Selenium
Silicon
Vanadium
Zinc
MINERAL ESSENTIALITY STILL IN QUESTION
Bromine
Fluorine
Lead
Tin
Essential Vitamins for Humans
WATER-SOLUBLE VITAMINS

Vitamin B1 (thiamin)
Vitamin B2 (riboflavin)
Vitamin B3 (niacin)
Vitamin B6 (pyridoxine)
Vitamin B12  (cobalamin)
Biotin
Choline
Folic acid
Pantothenic acid
Vitamin C

FAT-SOLUBLE VITAMINS

Vitamin A

Vitamin D

Vitamin E

Vitamin K
Essential Fatty Acids for Humans
Linoleic acid (omega-6)Linolenic acid (omega-3)
Essential Amino Acids for Humans
COMPONENTS OF FOOD PROTEIN
Histidine (for infants)Isoleucine Leucine Lysine Methionine – Cystine  Phenylalanine – Tyrosine  Threonine Tryptophan Valine
Essentiality in a Larger Context
All living things need specific substances from its environment in order to live.  These are the chemical entities needed for a particular species to grow and reproduce:  they are the Essential Nutrients for that species, whether it be
animal,
plant,
virus or
bacterium.
In a larger context, these essential nutrients, along with water and energy (calories), are so important to animal life that an entire organ system – the digestive system – is always at work, ready to provide our bodies' cells with these essential nutrients from the diet we eat.
The elements hydrogen, carbon and nitrogen are so basic to all life that they are not listed in a species' list of essential nutrients – they are taken for granted as necessary from the environment.
Oxygen could be said to be an essential nutrient, so important that it has its own organ system — the lungs and respiratory system – in place to constantly deliver precious oxygen to all cells of the body.  But Nutritional Science has traditionally limited itself to the study of all a species' essential nutrients that are provided via the digestive (for animals) or root (for plants) systems.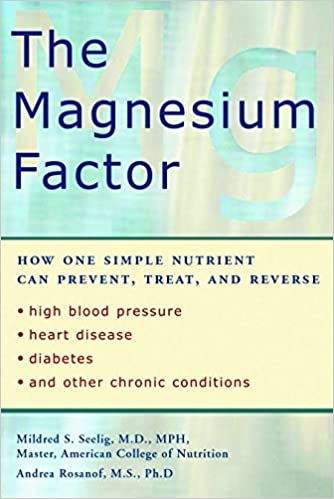 Buy Dr Rossanoff's Book
The Magnesium Factor: How One Simple Nutrient Can Prevent, Treat, and Reverse High Blood Pressure, Heart Disease, Diabetes, and Other Chronic Conditions