All Information on this page is derived from data from:
Source: U.S. Department of Agriculture, Agricultural Research Service. 2001. USDA Nutrient Database for Standard Reference, Release 14. Nutrient Data Laboratory Home Page. https://www.nal.usda.gov/fnic/foodcomp/search/
I. Wheat Flours
Energy (Kcal) & Mg Content of Wheat (per 100 grams)
Mg (mg) = milligrams of Magnesium
Summary of Wheat graph:  Whole wheat contains naturally occurring magnesium, mostly in the bran and the wheat germ.  When whole wheat is processed to make flour, the bran and germ are removed, and thus the resulting flour has less than 15% of the whole wheat's natural magnesium.  While flours are often "enriched" with 4 B-vitamins and iron, but are no magnesium is added back.
Flour type

(100 g)

 Calories

(Kcal)

 Magnesium

(Mg)

 Magnesium per

1000 Kcal

 Whole wheat flour
 339
 138
 407
 White, All purpose flours
 364
 22
 60
II.  Whole vs. refined Corn products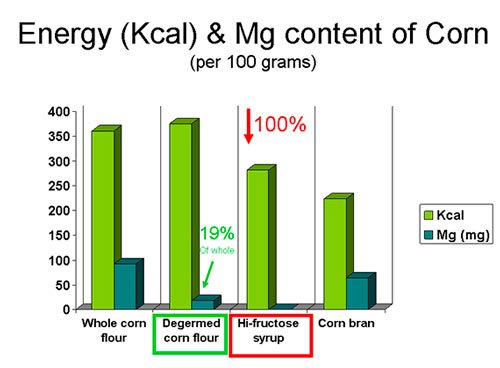 Mg (mg) = milligrams of Magnesium
Summary of Corn graph:  Most magnesium in natural, whole corn is in the bran.  When this bran is removed via processing into corn flour, the product has lost over 80% of its natural magnesium.  When corn is processed to extract its high-fructose corn syrup, widely used in processed foods of today, all the natural corn magnesium has been lost.
III. Sugar sources and sugars
Sugar Food

(100 g)

Calories

(Kcal)

Magnesium

(mg )

 Magnesium per

1000 Kcal

 granulated sugar
 387
 0
 0
 brown sugar
 376
 29
 77
 molasses
 235
 215
 915
 maple sugar
 354
 19
 54
 Cane syrup
 279
 4
14
Summary of Sugar graph:  Sugar, or sucrose, is refined from sugar beets and/or sugar cane.  When refined from the cane, molasses is a by-product of the refining process.  The molasses contains almost all of the natural magnesium that occurs in sugar cane.  Brown sugar is the refined white sugar product with molasses added to it.
IV. Magnesium in Whole Foods & Oil-Seeds compared to refined oils
Oil vs. Whole Food

(100 g)

 Calories

(Kcal)

 Magnesium

(mg)

Magnesium per

1000 Kcal

safflower seeds
 517
 353
 680
 safflower oil
 884
 0
 0
 olives
 115
 4
 35
 olive oil
 884
 0
 0
 peanuts
 318
 102
 321
 peanut oil
 884
 0
 0
 avocado
 161
 39
242
 avocado oil
 884
 0
 0
 corn, cooked
 108
 32
 296
 corn oil
 884
 0
 0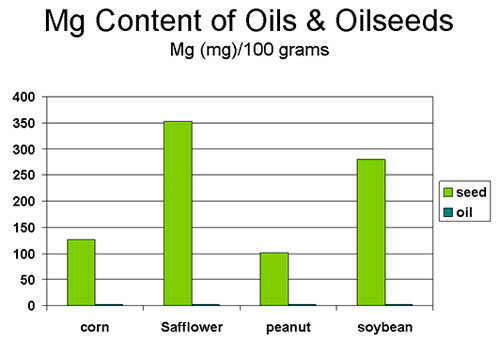 V.  Nutrient Density of various foods
The Bar Graph that follows is of the magnesium nutrient density of various foods:  magnesium nutrient density refers to the amount of magnesium (in milligrams) one receives when consuming 1000 calories (1 kcal) of that food.
Note that the first 5 items, all products of food refining often used in processed foods, are quite low in their magnesium nutrient density while the whole foods following are much higher in how much magnesium they impart with their calories.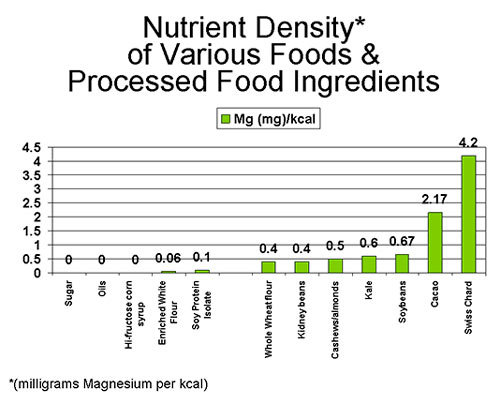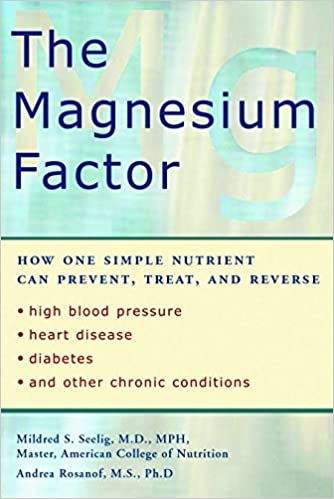 Buy Dr Rossanoff's Book
The Magnesium Factor: How One Simple Nutrient Can Prevent, Treat, and Reverse High Blood Pressure, Heart Disease, Diabetes, and Other Chronic Conditions